We like to think of ourselves as proud owners of a bachelor's degree in Zara. From being able to predict the start date of its sales and navigating how to shop said sales to deciphering which buys are worth it and which will have you looking like a millennial clone the minute you step outside, we've seen — and bought it — at all. But sometimes, the fast-fashion powerhouse can still throw us for a loop.
Case(s) in point, our go-to shop for sussing out trends has quickly become a source for clever styling tips, beachwear, and products that are capable of taking over Instagram. We're avid trackers of its new arrivals every Tuesday and Thursday for this exact reason. But for its latest offering, Zara has chosen to take us on a style journey through time, rather than introducing us to anything new.
Those "the '90s are back," "the '70s have returned," and "the '80s are seeing a revival" headlines that are going strong? Zara's been taking stock. And instead of sticking to one, it's combining our obsession for all decade comebacks with an epic collection that's a blast from every era's past. So hop in the Zara time machine and whip through the ages with our favorite fall arrivals.
Mod '60sTweed and paisley are the names of the game this fall, and there's no better era that represents the prints than the '60s. Channel your inner Twiggy with belted midi dresses, white boots just a notch below true go-go boots, and some cat-eye glasses.
Zara, $49.9, available at Zara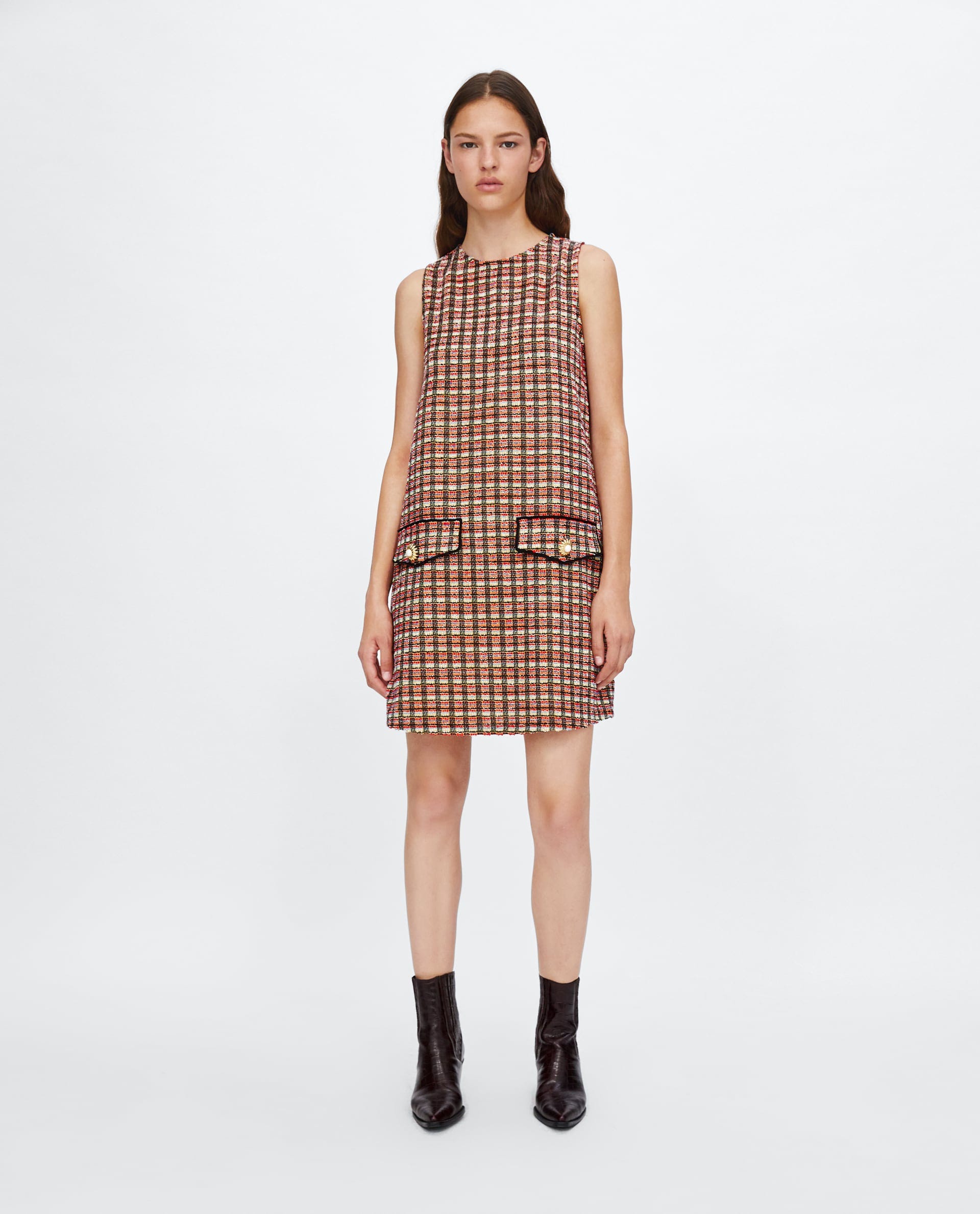 Disco '70sFrom a sea of hippies in floral maxi dresses swaying away at music festivals to Saturday night fevers, Zara's channeling every classic coming-of-age experience in the '70s. Take a turn in lamé mini dresses, mustard and burgundy combos, and a satin smoking jacking set topped off with feathers.
Zara, $99.9, available at Zara
Wild Child '80sWhy raid your mom's closet when Zara will give you the same look, without the potential fight. Zara's autumn selection is seeing dresses with shoulder padding, some on-trend animal prints, and rainbow earrings that just won't quit.
Zara, $69.9, available at Zara
The Never Ending '90sYeah, yeah. We've exhausted kitten heels, slip dresses, chokers, etc, etc, etc. But whether it's '90s kids using their clothing as a reflection of their nostalgia, or just that the decade was a treasure trove of good looks, '90s trends are here to stay. Lean into Zara's eclectic selection of grunge, turtlenecks, and that chic art school teacher look.
Zara, $17.89, available at ZaraZara, $49.9, available at Zara
Yes Diggity '00sBring back the age of boy bands. While their hair styles (both on their head and on their face) were somewhat questionable, their looks were enviable. Matching denim 'fits, utilitarian jumpsuits, wide-leg pants, the OG baby bag, Lenny Kravitz's whole general aesthetic… If Zara's new offering is anything to go by, we could be describing the fall runway trends as opposed to listing our favorite '00s revivals.
Zara, $99.9, available at Zara
Today & TomorrowNot every trend has to be a direct clone of that from a past era. In fact, fashion is better off as a mash-up of everything that's worked over the years. So while kitten heels and baggy jeans may be calling your name, temper them out with modern day pieces like two-toned sets and ultra-feminine dresses.
Zara, $35.9, available at ZaraZara, $59.9, available at Zara
Like what you see? How about some more R29 goodness, right here?
10 Cute Handbags You Can Get At Target For Under $35
10 Summer Pieces I'm Eyeing From The Men's Section
The Cute New Swimwear Line All For Ladies Size 10-26
Read more: refinery29.com