You may have to to hide your eye roll when your co-worker starts blabbing on about how she and her BFF are dressing as Kylie Jenner and Jordyn Woods for Halloween, but you have to admit that it's a pretty clever idea. Not only is it fresher than the cat costumes you and your best friend have worn for the past three years, but they probably already own all the important parts, save for the necessary manicure.
You and your friends — whether there's just two of you or a crew of six or more — can win best dressed this Halloween by serving some killer looks, because we've rounded up 10 group costumes that you'll actually want to take to the nines.
Whether you want to whip out the body glitter and hairspray in a ode to the girls of Glow, want to get perverse as the Heathers, or you're inspired by Dionne's box braids and plaid skirt suit from Clueless, you'll find the perfect costume for you and your crew, ahead.
The Gorgeous Ladies Of Wrestling
The only way to do this '80s costume justice is to take a pointer from the cast of Glow. Translation: Go all out with your beauty. That means huge hair, blue eyeshadow, neon hairspray, and plenty of body glitter.
The Black Panther 's Nakia and Okoye
If you take beauty cues from Lupita and Danai on the regular, consider channeling the iconic cinematic duo for Halloween as their Black Panther characters. Picking just one look from the film might be difficult, so why not take the opportunity to rewatch for inspo?
Photo: Courtesy of Matt Kennedy.
The Saved By The Bell Cast
This formula couldn't be any easier to copy: three girls, three guys, hairspray, a bunch of scrunchies, and acid wash jeans.
Photo: Photo by: NBCU Photo Bank/Getty Images.
Blair and Serena
Even if you're far from Upper East Side elite — both in location and spirit — you can play into the Gossip Girl aesthetic for the fantasy. You'll need: Blake Lively blonde hair (which probably means a wig), a brunette counterpart, and a heaping supply of sass.
Photo: James Devaney/WireImage/Getty Images.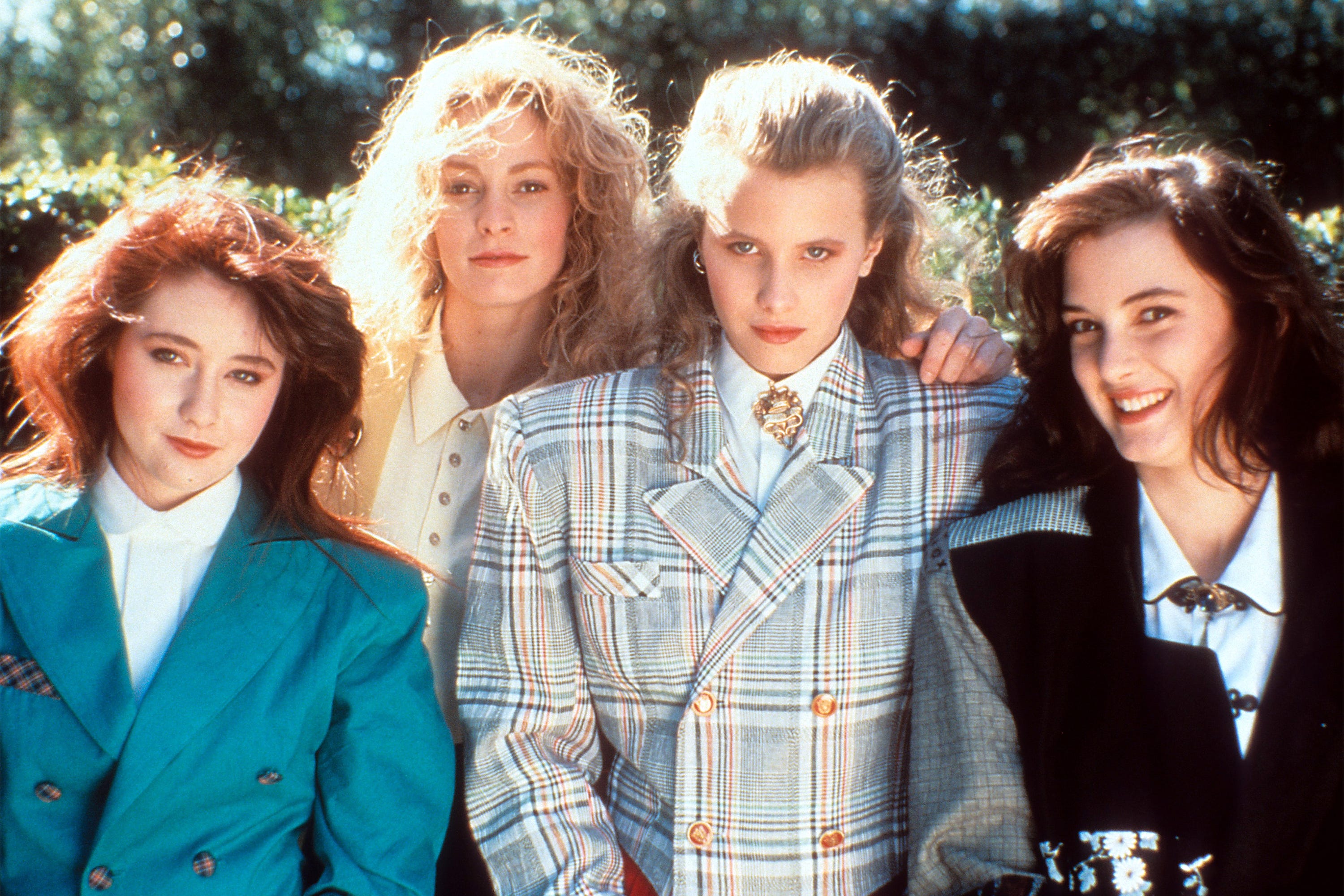 The Heathers
Or, if you prefer something a little more sinister, channel the OG preppy girl gang, The Heathers, with a mix of perms and plaid.
Photo: New World Pictures/Getty Images.
The Cast Of The Hills
Play on your teenage dream of living in Laguna Beach and kissing Stephen Colletti by dressing as someone from The Hills. Have heavily bleached blonde highlights? You're halfway there.
Photo: Frazer Harrison/Getty Images.
Destiny's Child
The "Single Ladies " look is overplayed, and channeling "Lemonade" requires a mega wardrobe lift, so take your Beyoncé costume old school with sparkles, matching makeup, and two friends.
Photo: Dave Hogan/Getty Images.
Cher and Dionne
Every Clueless fan wants Cher's white Jeep and Dione's dramatic hat collection, but dressing as the duo for Halloween is a far easier fantasy to achieve.
Photo: Paramount Pictures/Getty Images.
The Fresh Prince of Bel-Air Fam
Imagine how much fun you'll have flipping your hair a la Hilary Banks and having an appropriate excuse to belt out the theme song. Sing it with us now, "In West Philadelphia, born and raised …"
Photo: Gary Null/NBCU Photo Bank/Getty Images.
The Golden Girls
Get yourself three friends, a few wigs, pantyhose, red lipstick and you're golden.
Photo: Herb Ball/NBCU Photo/Getty Images.
Like what you see? How about some more R29 goodness, right here?
The Best (& Easiest) Halloween Costumes For Your Hair Type
Cheap Alternatives To Pricy Skin-Care Buys — That Actually Work
A Guide To Brooklyn Beckham's Dainty, Dad-Inspired Tattoos
Read more: refinery29.com